Retention Marketing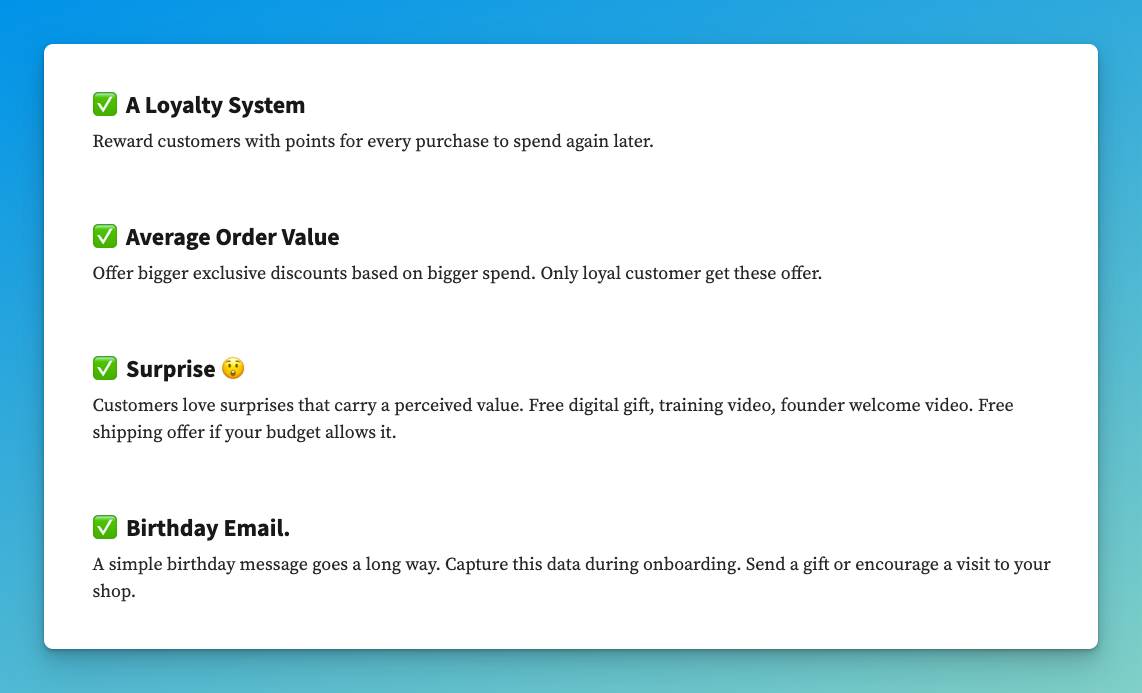 It's cheaper to sell stuff to your existing customers than find new ones.
Try these ideas for retaining customer and getting repeat buyers for your physical business 👇
✅ A Loyalty System
Reward customers with points for every purchase to spend again later.
✅ Average Order Value
Offer bigger exclusive discounts based on bigger spend. Only loyal customer get these offer.
✅ Surprise 😲
Customers love surprises that carry a perceived value. Free digital gift, training video, founder welcome video. Free shipping offer if your budget allows it.
✅ Birthday Email.
A simple birthday message goes a long way. Capture this data during onboarding. Send a gift or encourage a visit to your shop.
✅ Anniversary 🥂
Thank loyal customers a year after their first purchase. So easy.
✅ Daily Deals
Make time based offers to a customer only list. Helps clear old stock and carries value.
✅ Subscriptions
Offer a reduce price for regular purchasing.
✅ Direct Support
Give loyal customers a direct support channel for questions and help. Use whatsapp, online chat or after hours services.
✅ Events
Give loyal customers private events. These could be based on purchasing behaviour. Don't create divide though.
💜 Be Kind
No matter how you treat different customers remember the first time they spend might be the last. How you interact and engage in the first hours and days could turn them into a one-time or lifetime buyer.
Retweet and like the post on Twitter 👇